spiritually-hip vocal music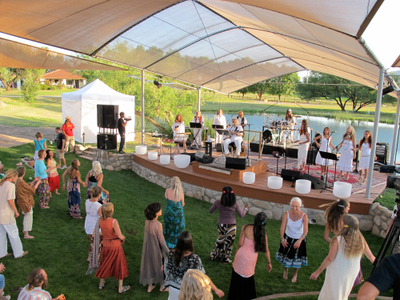 CosmoPop® is spiritually-hip vocal music that addresses the sufferings of our times and gives hope for a better world to come. It is TaliasVan's unique form of Global Change Music which he plays with the 11-piece Bright & Morning Star Band.
CosmoPop®, spiritual-vocal music incorporates spiritual lyrics, mantra, sacred dance using rock, jazz, celtic, folk, world music, CosmoFolk™ and even CosmoCountry™ to create an interuniversal and interdimensional experience.
The beating heart of CosmoPop® Music is TaliasVan's voice and guitar. His stylized vocals express the height and depth of emotional experience, while his lyrics reveal the poetry and wisdom of one who has lived lifetimes. His soul-prose expresses a spiritual sound that is visionary and hip, yet real and down to earth. TaliasVan believes that spiritual music does not have to be rote, churchy, or square and that a spiritual person can still be hip.
TaliasVan & The Bright & Morning Star Band balances the intimacy and spiritual sincerity of a singer-songwriter with the groove and excitement of a 11-piece intergalactic jam-band.
Read a Fan Letter
...more fan letters