Upcoming Tour Dates
TaliasVan & the band are currently in the recording studio working on their next album. If you would like to help us by sponsoring events, procuring venues, or promoting a concert locally, please contact us.
---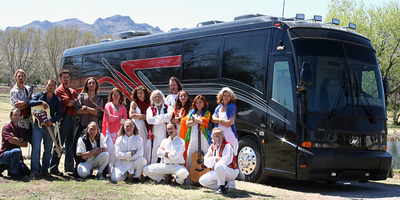 Projected Spiritualution Concerts in 2017 and Onward
The Bright & Morning Star Band travels internationally to perform Spiritualution Concerts, bringing hope and healing to cities and countries that have experienced economic, social, or political discouragement.
New Orleans, Louisiana
Phoenix, Arizona
Chicago, Illinois
Pittsburgh, Pennsylvania
Austin, Texas
New York, New York
Portland, Oregon
Asheville, North Carolina
Standing Rock, North Dakota
Oak Flat, Arizona
Hopi Land, Arizona
Avalon Organic Gardens & EcoVillage, Tumacácori, Arizona

AROUND THE WORLD —
Glastonbury, England
South of France
Maui, Hawaii
Jerusalem, Israel
Yucatan, Mexico
Spiritualution Concerts of the Past
| Date | Venue | City |
| --- | --- | --- |
| December 24, 2016 | The Atrium at Avalon Gardens | Tumacácori, Arizona |
| October 1, 2016 | Avalon Gardens Earth Harmony Festival | Tumacácori, Arizona |
| May 8, 2016 | Avalon Gardens Purification Gathering | Tumacácori, Arizona |
| October 3, 2015 | Avalon Gardens Earth Harmony Festival | Tumacácori, Arizona |
| August 15, 2015 | Avalon Gardens | Tumacácori, Arizona |
| October 4, 2014 | Avalon Gardens Earth Harmony Festival | Tumacácori, Arizona |
| February 14, 2014 | The Sea of Glass - Valentine's Day Concert | Tucson, Arizona |
| October 5, 2013 | Avalon Gardens Earth Harmony Festival | Tumacácori, Arizona |
| October 6, 2012 | Avalon Gardens Earth Harmony Festival | Tumacácori, Arizona |
| July 9, 2011 | Rotary Park | Durango, Colorado |
| July 8, 2011 | Community Concert Hall at Fort Lewis College | Durango, Colorado |
| June 24, 2011 | Berger Performing Arts Center | Tucson, Arizona |
| May 22, 2011 | The Be Aware Festival | Tumacácori, Arizona |
| May 8, 2010 | The Be Aware Festival | Tumacácori, Arizona |
| October 25, 2009 | Avalon Gardens | Tumacácori, Arizona |
| June 21, 2009 | Avalon Gardens | Tumacácori, Arizona |
| November 11, 2006 | 11-11 Concert at Future Studios | Sedona, Arizona |
| September 11, 2006 | 9-11 Radical Unity Concert at Future Studios | Sedona, Arizona |
| April 30, 2006 | Watson Lake Park | Prescott, Arizona |
| November 20, 2005 | Reid Park DeMeester Outdoor Performance Center | Tucson, Arizona |
| August 21, 2005 | City Park | Mt. Shasta, California |
| July 31, 2005 | Wheeler Park | Flagstaff, Arizona |
| November 1, 2004 | Future Studios - Sacred Global CosmoPop® Concert | Sedona, Arizona |